Aluminium Spacer Couplings With External Spider, SRE Type Couplings, Manufacturer, Pune, India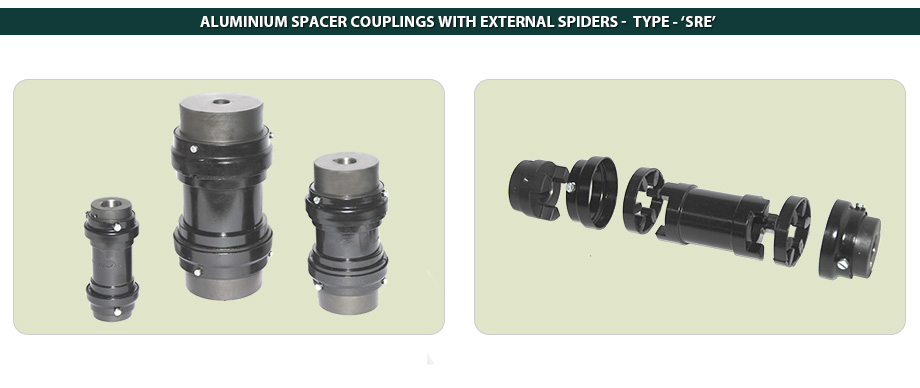 • Spacer coupling with easy to remove snap design.
• Suitable for back pull out design pumps. Spacer of Aluminum to reduce load on the extended shafts.
• Can take larger mis - alignments because of two flexible membranes.
SR.NO

PART NAME

MATERIAL

1

Coupling Hub

Cast Iron ( GG 25 )

2

Spacer

Aluminium ( LM4 )

3

Snap / External Spider

Nitrile Rubber

4

Retainer Ring

MS

5

Set Screw

MS
SIZE

RATED HP AT RPM

RATED TORQUE

BORE SIZE Ø P

JAW DIA.

RING DIA.

HUB DIA.

LENGTH THROUGH

SPACER LENGTH

GAP BET.

WEIGHT OF PILOT COUPLING 

1000

1500

3000

kg-m

PILOT

MAX.

Ø J

Ø R

Ø H

BORE   G

S

JAW & BODY  F

FOR SPACER LENGTH  KG.

90

100

140

180

95

2.8

4.2

8.4

2.00

10

28

54

66

49

25

90/100

2

1.20

1.25

-

-

100

6.0

9.0

18.0

4.29

10

38

65

76

57

35

90/100/140

2

2.02

2.05

2.20

-

110

11.0

16.5

33.0

7.87

15

42

85

98

76

43

90/100/140

3

4.16

4.25

4.56

-

150

17.0

25.5

51.0

12.17

15

48

96

111

80

45

90/100/140/180

3

5.26

5.35

5.70

6.02

190

22.0

33.0

66.0

15.75

20

60

115

129

102

54

90/100/140/180

3

8.10

9.20

9.80

10.40

225

33.0

49.5

99.0

23.62

20

65

127

142

108

64

90/100/140/180

3

11.80

12.03

12.76

13.40

All dimensions in mm