CI Spacer Couplings, SR Type Couplings, Manufacturer, Pune, India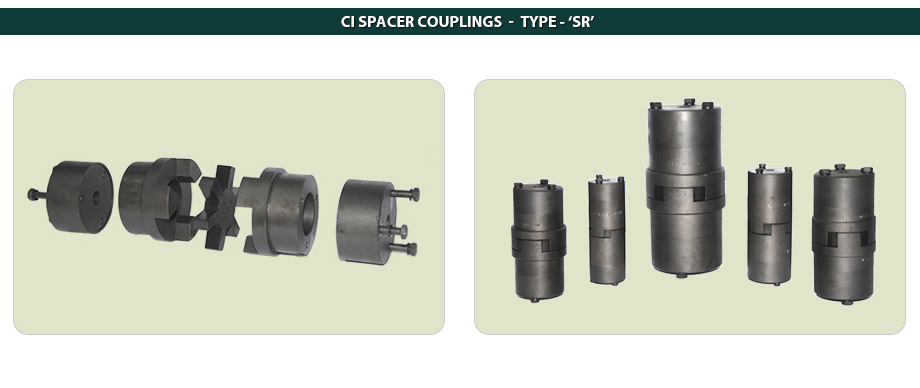 • Spacer coupling with star / spider design.
• Recommended specially for back pull out pumps & when the distance between shafts is more than the standard.

• Easy replacement of spider without removing equipment from base. Thus less down time. H. T. fastners used.
• Capacity up to 24 kg-m of torque.
• Available in various spacer lengths of 75,90,100,135,140,180 mm.
• Also recommended where disconnection of driver & driven is required.
SR.NO

PART NAME

MATERIAL

1

Spacer

Cast Iron ( GG 25 )

2

Bush / Hub

Cast Iron ( GG 25 )

3

Star / Spider

Nitrile Rubber

4

Hex / Bolt

High Tensile Alloy steel
( with spring washer )
SIZE

RATED HP AT RPM

RATED TORQUE

BORE SIZE Ø P

JAW DIA.

HUB/ BUSH DIA.

BUSH

SPACER LENGTH

GAP BET.

BOLT SIZE FOR

BOLT

WEIGHT OF PILOT COUP.(CI)

1000

1500

3000

kg-m

PILOT

MAX.

Ø J

Ø H

LENGTH B

S

JAW & BODY  F

STD COUP/
(TRI COUP)*

EXTN. X

FOR SPACER LENGTH 

90

100

140

180

95

2.8

4.2

8.4

2.00

10

28

54

54

25.5

75/90/100

2

M 6 x 40

15

1.8

1.9

-

-

100

6.0

9.0

18.0

4.29

10

38

65

65

30.5

75/90/100/135/140

2

M 6 x 45

15

2.7

2.9

3.5

-

110

11.0

16.5

33.0

7.87

15

42  /24*

85

76

35.5

75/90/100/135/140

3

M8 x 55
(M8 x 35)*

20

4.2

4.4

5.3

-

150

17.0

25.5

51.0

12.17

15

48  /32*

96

90

45.5

90/100/135/140/180

3

M10 x 65
(M10 x 40)*

20

6.7

7.1

8.2

9.4

190

22.0

33.0

66.0

15.75

20

55  /38*

115

102

51.5

90/100/135/140/180

3

M10 x 75
(M10 x 40)*

24

9.5

10

11.5

13.1

225

33.0

49.5

99.0

23.62

20

65  /42*

127

115

57.5

90/100/135/140/180

3

M12 x 80
(M12 x 45)*

24

12.7

13.3

15.4

17.5

* For Triangular bush

All dimensions in mm