Cushion Pad Couplings, K Type Couplings, Manufacturer, Pune, India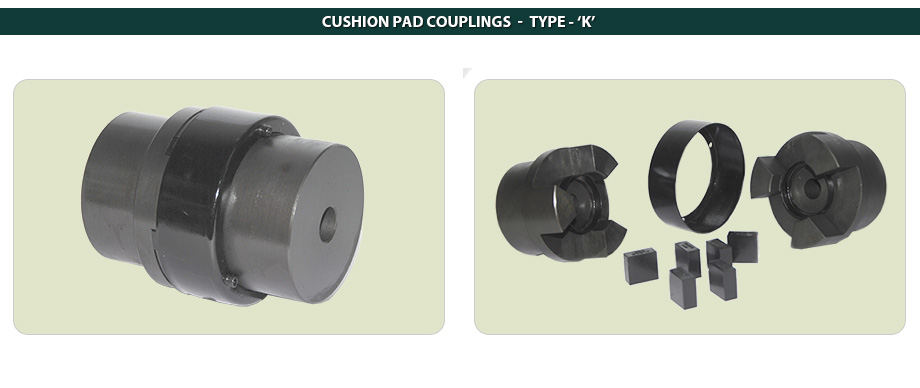 • Suitable for torques upto 215 kg-m.
• Available with cushion pads instead of star which facilities easy removal of rubber elements without disturbing the equipments.
• Seamless retainer rings provided on inside & outside diameter of coupling to support the pads.
• Pads can be inspected easily from time to time.
SR.NO

PART NAME

MATERIAL

1

Coupling  Hub

Cast Iron ( GG 25 )

2

Pads

Nitrile Rubber

3

O.D.Ring

MS

4

I. D. Ring

MS

5

Set Screw

MS
SIZE

RATED HP AT RPM

RATED TORQUE

BORE SIZE Ø P

JAW DIA.

RING DIA.

HUB DIA.

TOTAL

LENGTH THROUGH

GAP BET.

DIST.
BETWEEN

WEIGHT PILOT COUPLING 

1000

1500

3000

kg-m

PILOT

MAX.

ØJ

Ø R

ØH

LENGTH L

BORE   G

JAW & BODY  F

SHAFTS D

(APPROX)KG.

226

46.0

69.0

138.0

32.93

25

65

137

142

115

178

70

3

38

13.0

276

73.0

109.5

219.0

52.26

25

75

157

162

127

200

80

3

40

18.5

280

110.0

165.0

330.0

78.76

30

80

192

198

140

200

80

3

40

25.0

295

180.0

270.0

540.0

128.88

30

95

237

242

160

238

95

3

48

44.0

2955

300.0

450.0

900.0

214.80

30

100

237

242

180

264

108

3

48

53.0

All dimensions in mm